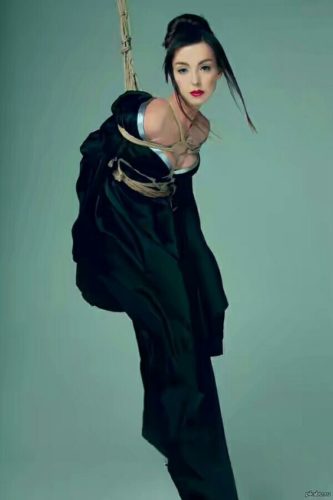 The art of shibari (sibari) arose several centuries ago in Japan as a military discipline. Each warrior should know how to tie the captive enemy so that he could not get free (some variants were intended to strangle a prisoner). But it wasn't a sibari in the modern sense; the philosophy and psychological concept of this practice were not developed yet.
Now shibari, first of all, the skill of an aesthetic rope bandage, not devoid of meditative properties. And of course, it has an erotic subtext. In addition, individual elements can affect on erogenous zones. Using a rope bondage you can cause a person completely different emotions but also cause physical or moral harm so don't forget about safety during the session.
The meaning of shibari is to tie a person with ropes for not only fixes his body and limits mobility but also bring aesthetically pleasure due to beautiful knots and weaves. Some bindings in shibari do not limit movement at all, it just covers the body as a "bra" or "swimsuit" – sometimes you can even put on clothes on top of them. In general, binding in the shibari technique can be a prelude to sexual contact, but it also can be practiced as an independent activity.
The model and the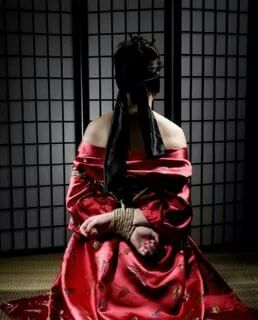 master are not always sexual partners, they can be of one or different sex.
Shibari is a static art. Absolutely everything is important: from the position of the arms, legs, head, and ending with the pattern that creates the rope nodes. It is believed that during such sexual games, the effect on biologically active points and erogenous zones are carried out. However, opponents of this theory say that it is unreasonable: after all, for example, the points located on the head or on the feet are not affected. The binding process is done deliberately leisurely, sometimes it can take up to several hours, for which reason this art is also often compared to meditation or tantric sex.
For shibari, you will need special ropes – soft enough and smooth (not to injure the skin) but not so slippery that the nodes weren't untying. In general, one of the important principles is to avoid injuries, squeezing of internal organs, circulatory disorders and to get by with a minimum of traces on the body (or completely without them).
If you decide to try the shibari just once, just as an unusual erotic game, you can experience completely new and unusual sensations – the inability of the naked body to move and the absolute dependence on the other person is unforgettable feelings